As producers of one of the world's oldest and most famous cheeses, the Parmigiano Reggiano Cheese Consortium recently expanded its efforts to protect the integrity, quality and brand of a product that symbolizes the very best in Italian food and lifestyle.
With a legacy of more than 80 years in the making, Italy's Consorzio del Formaggio Parmigiano Reggiano (CFPR) protects and conveys the value of their product, distinguishing this quintessentially Italian cheese from similar-sounding items on the market—brands that do not meet the consortium's strict requirements for production and area of origin.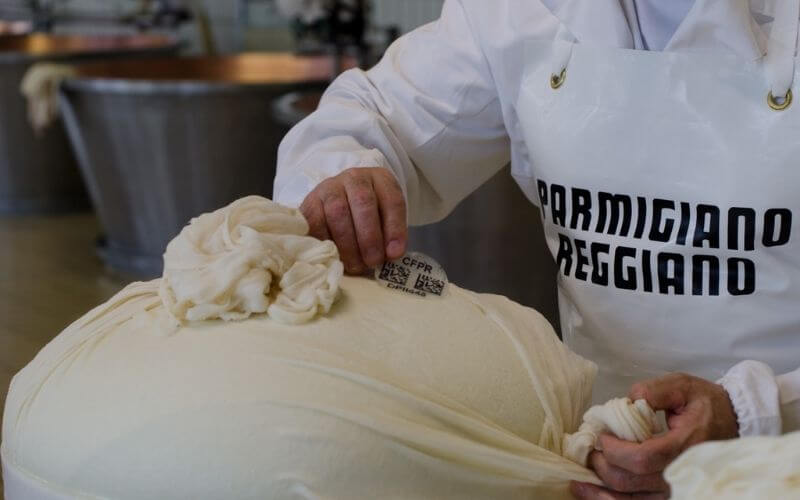 With such high quality standards, CFPR has long stood out in their cutting-edge efforts to track and trace their cheeses. Now, they've launched an innovative solution that's positioned to permanently alter the way food manufacturers monitor their products.
Partners in Brand Protection
In an innovative 3-way partnership, CFPR, Kaasmerk Matec (Kaasmerk) and p-Chip Corporation (p-Chip) worked together to create and launch a first-to-market line of secure, food-contact safe digital tracking labels.  
Miniscule but highly secure, a food-contact safe p-Chip microtransponder will be affixed to the casein tag on 120,000 Parmigiano Reggiano bulk cheese wheels in the second quarter of 2022. In so doing, CFPR will create a digital "twin" for every physical cheese wheel, enabling previously unseen levels of traceability across the supply chain.
The breakthrough delivers the opportunity for
Blockchain-backed tracking
Digital product authentication
Real-time inventory control
Secure quality-assurance monitoring
Product serialization
Improved consumer safety
"By being the first to incorporate these secure digital labels onto our cheese wheels, we can continue to ensure consumer safety, bringing the traceability and the authentication of our products to meet industry 4.0 technological targets," said Nicola Bertinelli, president of the Consorzio del Formaggio Parmigiano Reggiano.
Behind the Technology
Kaasmerk Matec and p-Chip Corporation partnered to complete this innovation program for a p-Chip device integrated into casein, an industry-standard, protein-based type of food packaging.
The innovation combines food-safe casein labels with the p-Chip microtransponder—a scannable crypto-anchor that
Creates a digital "twin" for physical items
Is smaller than a grain of salt and highly durable
Delivers next-generation visibility and traceability
Food companies can now integrate a p-Chip tag into 2D codes, QR codes and/or data-matrix codes to verify the authenticity of materials and track chain-of-custody, both before and after purchase.
CFPR took fast advantage of this breakthrough, leading the way in bringing the innovation to market.
Since 2002, each Parmigiano Reggiano cheese wheel has carried a casein plate with a unique and sequential alphanumeric code. Now, CFPR aims to improve digital tracking and security by adding food-contact safe microtransponders into their casein plates.
Extensive Testing
Over the past two years, CFPR has conducted extensive testing of the p-Chip/Kaasmerk Matec casein tag and approved the label's technical use for the authentication and digital traceability of Parmigiano Reggiano cheese.
It's yet another step this global leader is taking to protect its heritage, knowledge and assets, ensuring consumers worldwide can enjoy the ancient value of Parmigiano Reggiano's famously distinctive flavor.
Global Implications for the Food and Beverage Industry
The food and beverage industry is driven by online product sales. Counterfeiting of food products has increased manifold in recent years, posing a major risk to the health and safety of consumers.
Considering the widespread circulation of fake products, food and beverage manufacturers are constrained to implement technology solutions to counter this problem. Security labels, holograms and barcodes are some of the most common authentication technologies used by manufacturers on their product packaging, but they are not as secure or as cost effective as the p-Chip microtransponder.
According to the US-based Consumer Brands Association (CBA), formerly the Grocery Manufacturers Association (GMA), it is estimated that counterfeiting of global food and consumer products may cost the industry USD $10 – $15 billion per year.
Thus, the growing trade of counterfeit products is expected to boost the demand for track and trace solutions from the food and beverage sector. The food and beverage industry is among the early adopters of crypto anchors like the p-Chip microtransponder to avoid duplication of and adulteration in food items.
For more information, contact p-Chip.